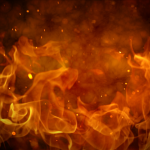 UPDATE: The fire originated in a vehicle located in the garage, which caused approximately $120,000 in damages, and will be classified as accidental.
The fire was contained to the garage, but caused extensive smoke damage throughout the house.
Two are displaced.

EARLIER: From News Release: Roanoke County Fire and Rescue responded at about 3:10 p.m., on Saturday, May 12, 2018 to the 3500 block of Penn Forest Boulevard in the Cave Spring area for the report of a structure fire in a single family split-level home. First arriving crews did find heavy smoke and flames showing from the garage. Crews from Cave Spring, Clearbrook, Back Creek, Fort Lewis, Vinton and Roanoke City responded to the fire. There were no injuries. Two adults live in the home and will be displaced. Both occupants were home at the time of the fire and were able to evacuate their two dogs unharmed. The fire appears to have started in and was contained to the garage. The fire destroyed 2 vehicles, caused heavy smoke damage throughout the home and was brought under control in about 30 minutes. The fire marshal's office is on scene to investigate a cause.