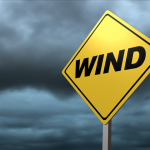 The National Weather Service has issued a Wind Advisory for area along the Blue Ridge from midnight tonight to four pm tomorrow. Forecasters say an Artic cold front will bring in strong winds overnight, especially along the Blue Ridge, where gusts could reach 50 miles per hour.
From the National Weather Service: An Arctic cold front will cross the region overnight. Increasing northwest winds behind the front will result in strong wind gusts especially along the ridges later tonight into Tuesday as much colder air rushes in. The strongest winds should occur along the Blue Ridge Parkway where gusts to 50 or 55 mph will be possible.
* Locations…Along the Blue Ridge.
* Hazards…Strong wind gusts.
* Winds…Northwest 20 to 30 with gusts to 50 or 55 mph.
* Timing…Late tonight through Tuesday with the strongest winds early Tuesday morning.
* Impacts…These winds may down small trees or tree limbs…as well as power lines. Loose outdoor objects should be secured. Winds this strong can make travel difficult, especially for high profile vehicles.