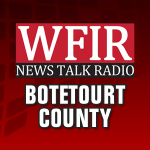 Matt Ward won a three-way contest to capture the Republican party's nomination for Botetourt County sheriff in Tuesday's primary. Ward is a master deputy in the sheriff's office, and he will face Independent candidates Danny Crouse and William Stowell in November. Ward captured about 56% of the votes cast, followed by Jeff Stritesky with 30% and Mike Vineyard with 14%.
In Botetourt  County's Blue Ridge District, incumbent Board of Supervisors member Billy Martin easily turned back a Republican Party primary challenge from Walter Michael, gaining about 67% of the vote. Martin is currently the board's chairman.
In the Republican primary race for the county's Commissioner of the Revenue, Chris Booth defeated Michael Griffin 57-43%.