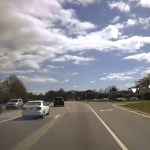 The Virginia State Police is investigating a felony hit and run which occurred on April 12, 2022,  at 11:15 a.m. on Forest Road in Bedford County.  The crash involved a 2010-2017 black Toyota Corolla with heavy front end damage to the bumper and the passenger side of the vehicle.   The Toyota is believed to be driven by a white female, 20 to 40 years of age.
The State Police is seeking anyone with information/witnesses who have knowledge, or may have seen this vehicle, to contact the Virginia State Police, Bedford Office, at 540-586-7905, or email 
questions@vsp.virginia.gov
. Attached is the image of the Toyota Corolla involved in the crash.