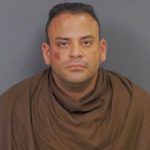 The Virginia State Police received a complaint from a caller that a SUV pulling a trailer, traveling south, was driving recklessly on Interstate 81.  The caller stated the SUV was traveling with red and blue flashing lights, coming from inside the vehicle.  Troopers located the southbound SUV at mile marker 158 and attempted to stop the vehicle; a pursuit ensued.  The driver attempted to elude police by speeding up, reaching speeds above 90 mph and throwing items out of the vehicle at the pursuing officers.
The SUV continued south into Roanoke County, where the SUV crossed the grass median at mile marker 144 and then began traveling north on Interstate 81.  Officers were able to end the pursuit by deploying a tire deflation device, which disabled the vehicle near exit 150, (Troutville Exit) on Interstate 81.  The driver exited the vehicle and followed commands to get on the ground.  As officers from the Virginia State Police and Botetourt County Sheriff's Office approached the male, he began to resist.  After a short struggle, he was taken into custody.  Roberto Jasser Villarreal Rios, 39, of Elizabeth, NJ, was taken to Roanoke Memorial Hospital for minor injuries he received during the arrest.
Rios was charged with the following:  Throwing a Missile from a Vehicle (6 counts)  Felony Elude,  Reckless Driving, Assault on a Law Enforcement Officer (2 counts), Destruction of Property,  Resisting Arrest and Impersonating a Police Officer.  Two officers received minor injuries during the arrest and were treated and released at the scene. After being released from Roanoke Memorial Hospital, Rios was transported to the Botetourt County Jail, where he remains without bond.
(from Virginia State Police yesterday) VSP received a call for reckless driving, and found the suspect vehicle southbound at mile marker 170, on Interstate 81.  A pursuit began, and ended at the Troutville scales after the vehicle was disabled by stop sticks.  Subject resisted arrest and is now in custody.  He is being transported to RMH for injuries received during the arrest.