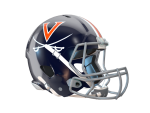 ATLANTA (AP) — Virginia's championship hopes could be dashed before the Cavaliers take the field Saturday.
Yet, there isn't time to fret over what-ifs.
The triple-option demands their full attention.
Georgia Tech leads the nation in rushing yards with an average of 362.3 per game. The Yellow Jackets have pretty much dropped the forward pass from their repertoire, putting the ball in the air just seven times in the last three contests.
"It's unique," Virginia linebacker Jordan Mack said. "You've got to abandon everything you know, essentially, and just focus in on the offense."
The Cavaliers (7-3, 4-2 ACC) can't fare much worse than the last time they faced the unique offense. In the 2017 Military Bowl, Virginia scored an early touchdown — and then watched Navy run up and down the field the rest of the game, piling up 452 yards rushing in a 49-7 blowout .
The Midshipmen failed to complete their lone passing attempt.
Not that it mattered.
"It's not scary," Mack insisted. "It's another opportunity to get better. A lot of guys are eager and willing and want to improve and show that we can defend the triple-option."
Virginia must win this game to have any shot at winning the Coastal Division, and even then they'll need some help. Pittsburgh, which plays at Wake Forest on Saturday and should be finishing up about the time the Cavaliers kick off, merely needs to win one of its last two games to clinch a spot in the ACC championship game against No. 2 Clemson.
Georgia Tech's titles hopes faded in the first month of the season. But after a 1-3 start, the Yellow Jackets (6-4, 4-3) have ripped off a three-game winning streak and locked up a bowl berth.
"You can't quit after three games," coach Paul Johnson said. "This league is so balanced. … Other than Clemson, everybody is pretty similar."
Some other things to watch for when the Yellow Jackets host the Cavaliers on Saturday:
BOWL POSITIONING
While Virginia still has hopes of playing for an ACC title, this is also a chance to gain a better position in the league's postseason hierarchy.
The winner almost surely will land a more prestigious bowl assignment, no matter what happens in the final week of the regular season.
"We got to a bowl game, but now we have to make it better," Georgia Tech receiver Brad Stewart said.
HE'S BACK
Georgia Tech senior quarterback TaQuon Marshall, who seemed on the verge of losing his starting job to redshirt freshman Tobias Oliver, re-established himself as the clear No. 1 in last week's victory over Miami.
Marshall played nearly the entire game, rushing for 91 yards and two touchdowns to go along with a scoring pass in the 27-21 triumph .
Oliver had gotten the bulk of the playing time the previous two games with Marshall nursing an upper-body injury, running for 215 yards in an upset at Virginia Tech and 120 yards in a win over North Carolina. The youngster actually leads the Yellow Jackets in rushing with 781 yards and 12 TDs.
YOUNG LINE
Georgia Tech will be looking to capitalize on Virginia's youthful defensive line.
Two true freshmen (Aaron Faumui and Jordan Redmond) have started for Cavaliers, and redshirt freshman Tommy Christ got his first start in last week's victory over Liberty.
"They're not asking them to do a whole lot," Johnson said, "but they're doing what they ask them to do.
THIRD DOWN WOES
The Yellow Jackets' defense must do a better job getting off the field.
Opponents have converted nearly half of their third-down opportunities (51 of 106), a figure that Johnson said is unacceptable.
"We're been pretty good at not giving up big plays and getting turnovers, but third down is horrendous," the coach said.
VIRGINIA'S CATALYST
Junior-college transfer Bryce Perkins has given the Cavaliers' offense a dual threat at quarterback.
Perkins has rushed for more than 100 yards in three games and he's thrown for just under 2,000 yards with 18 touchdowns.
"He's a dynamic quarterback, as good as anybody in our league," Johnson said. "I think the quarterback kind of transformed their football team."