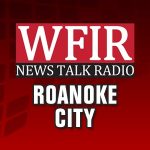 Roanoke City Councilman Dave Trinkle says 12 years will be enough, and he will not see re-election next year. Trinkle says he is proud to have served at a time Roanoke went through a dramatic transformation. More from WFIR's Evan Jones.
12-22 Trinkle Leaving Wrap2-WEB
From Roanoke City: After 12 years serving the City of Roanoke, Councilman David Trinkle announced today he will not seek re-election in the spring of 2018.  "I did not arrive at this decision easily," said Trinkle. "I have been fortunate to be a part of a fantastic city council for over a decade. I truly love this community and plan to pursue other opportunities where I can remain engaged and continue to contribute to the exciting – and critical — next steps for Roanoke. I am ready for a new challenge and look forward to serving the region and Commonwealth at other levels," he added.  Roanoke has evolved greatly in the 12 years Trinkle has served on Council. The city has seen significant population growth; a diversified and strengthened economy; and new, higher paying jobs. Trinkle took an active role in driving the Elmwood Park and Amphitheater development — arguably one of the city's greatest accomplishments and a cornerstone of the downtown revitalization.  "The thing I am perhaps most proud of is the drastic change in 'street talk'," Trinkle said. "People now take pride in Roanoke and talk positively about their city with lots of excitement.  They no longer compare us to other communities – in fact, other communities are now looking to Roanoke for ideas and best practices."
During his tenure on council, Roanoke has also placed an important focus on marketing initiatives encouraging residents to take advantage of the natural amenities throughout the region as well as fostering the growth of festivals and activities in city. All of these have come together to create a solid vibe, community pride and an authentic sense of place.  "There is still much work to be done to ensure all citizens are able to participate in the exciting progress in Roanoke. We must ensure better access to social and mental health services; improve income and other inequalities so present in our city, while still allowing for economic growth and strategized capital investments," Trinkle said. "We have a great new city manager and I believe we have the right mix of people running for office. With this new team, the city will be in excellent shape to tackle the next several years," he added.
Trinkle has been a strong advocate for improving transportation opportunities in the city as well as a champion for investing in — and supporting — arts and cultural organizations. He worked tirelessly to improve the community offerings and to assure it remains the Arts & Cultural hub in Southwest Virginia for decades to come. As part of this he helped create the Roanoke Cultural Endowment – a private-public partnership raising a $20 million endowment to sustainably and predictably fund arts organizations in the city of Roanoke.  "I am deeply grateful to the many people who have supported my service to Roanoke over the years and who continue to encourage me in my decision to tackle new challenges," Trinkle said. "We are at a pivotal moment where we don't want the progress and excitement to stall. I believe new leadership with new thoughts and voices combined with experienced leadership that has shown stability and excellent vision will be critical for the next phase of Roanoke's journey."
A geriatric psychiatrist, Dr. David Trinkle, M.D., is the Associate Dean for Community and Culture and Associate Professor of Psychiatric Medicine at the Virginia Tech Carilion School of Medicine (VTCSOM) as well as the Geripsychiatric Consultant to the Geriatric Assessment Clinic at Carilion Clinic Center for Healthy Aging, and to numerous Nursing Homes in the Roanoke Valley. In addition to being a local business owner, he has served on Roanoke City Council since 2006 with three terms as vice-mayor and served on the Roanoke City School Board. He is also very active in policy-making organizations related to his profession.