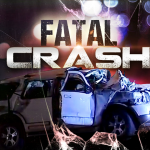 (update 11/21) Roanoke Police have identified the deceased occupant at the scene of the traffic fatality as 35 year old Francis Santos Martinez of Roanoke. Additionally, 31 year old Hector Calo Fernandez of Roanoke was pronounced deceased on 11/21/2022 by Roanoke Memorial Hospital physicians as a result of injuries sustained in the motor vehicle crash.
On November 20 at approximately 1:01 a.m., Roanoke Police were notified by the City of Roanoke E-911 Center of a motor vehicle crash in the 1300 block of 10th Street NW. Responding officers located a single vehicle on its side. Two adult male occupants were ejected from the vehicle. Roanoke Fire-EMS pronounced an adult male occupant deceased on the scene. The other adult male occupant was transported by Roanoke Fire-EMS to Carilion Roanoke Memorial Hospital for treatment of critical injuries. This remains an ongoing investigation, but speed does appear to be a factor.
Anyone with information about this incident is asked to call (540)344-8500 and share what you know. You can also text us at 274637; please being the text with "RoanokePD" to ensure its properly sent. Both calls and texts can remain anonymous.