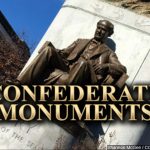 RICHMOND, Va. (AP) — Last June, when Virginia Gov. Ralph Northam announced a plan to take down a 131-year-old statue of Confederate Gen. Robert E. Lee, the move was met with widespread praise and relief from racial justice activists who had long seen it as a symbol of white supremacy.
A year later, the enormous bronze equestrian statue still towers over a traffic circle on historic Monument Avenue in downtown Richmond, kept in place by two lawsuits filed by people who believe it should stay right where it is. On Tuesday, the Supreme Court of Virginia will hear arguments in the legal challenges.
Among the central issues to be decided by the court: Is the Commonwealth of Virginia bound by a decision made by state officials more than 130 years ago? Or can the state undo that decision because the public's attitude toward Confederate symbols has changed drastically since then?
Attorneys for the plaintiffs will argue that the governor does not have the authority to remove the statue, while Attorney General Mark Herring's office will ask the court to uphold a lower court's rulings in favor of the governor.