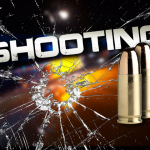 (from VSP) At the request of the Montgomery County Sheriff's Office, the Virginia State Police, Bureau of Criminal Investigation, Salem Division, is conducting an investigation into the death of male subject on Crozier Drive in Elliston, Va.   
The incident occurred on Sunday,
 September 24, 2023,
when Deputies attempted to speak with a suspicious male walking on Crozier Court in Montgomery County.  As deputies approached the white male, subject ran on foot behind a residence.  Officers gave chase.  The subject crossed Crozier Drive onto the property of East Montgomery High School.  As the officers caught up to the subject, the male produced a handgun and fired a single shot.  Officers attempted life saving measures, but the male subject died at the scene.
There is no evidence the officers discharged their firearms. 
The remains were transported the Office of the Chief Medical Examiner for identification.  
A handgun was recovered at the scene, and no officers were injured in the incident.