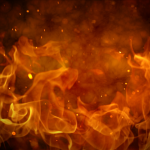 News release: The Salem Fire & EMS Department responded to a structure fire at 202 Maple St. this morning at approximately 9:56 a.m. Four people were inside the three-unit apartment building at the time of the fire and all were able to escape without injury. The first units arrived within four minutes of receiving the call and found heavy smoke coming from the second floor of the building. The fire was brought under control within 10 minutes of the first engine's arrival. The building did sustain fire and smoke damage, but the fire was contained to a room on the second floor.
Approximately 21 personnel from the Salem Fire & EMS Department (Truck 1, Engine 2, Engine 3, Medic 801, Medic 802, Battalion 1 & Fire Medic 1) and Roanoke County Fire & Rescue Department (Wagon 9) responded to the call. The Roanoke Fire & EMS Department (Engine 13) handled additional calls while units were on scene.
The Salem Fire Marshal's Office is investigating the fire and at this time neither a cause nor a damage estimate has been determined. The American Red Cross is assisting the residents who were displaced.