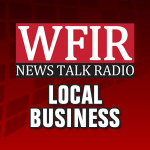 News release: Empire Bakery Commissary, LLC, a commercial producer of ready-made cakes, cookies and desserts, today announced an expansion that will double its capacity, creating 75 new jobs in Franklin County. The company is investing $10.4 million, including $2.3 million in new equipment, to add 32,000 square feet to its Rocky Mounty facility and renovate an additional 12,000 square feet to serve more customers.
"Empire Bakery's products help families and friends celebrate life's important milestones," said company president Mike Marek. "With this investment and the support of the Commonwealth of Virginia, Franklin County, the Town of Rocky Mount, and the Virginia Tobacco Region Revitalization Commission, we will be able to serve more customers and hire more associates. We look forward to our continued expansion in the Commonwealth."
"This latest bit of great economic news shows that Franklin County and the Town of Rocky Mount can compete nationally for business expansion," said Franklin County Board of Supervisors Chairman Cline Brubaker. "We look forward to building on our partnership by supporting Empire's growth."
Rocky Mount Mayor Steven C. Angle added: "We're delighted that Empire has the confidence to grow in Rocky Mount, providing more employment opportunities for our residents making quality products shipped across the country."
Empire Bakery provides ready-to-sell products for retailers throughout the United States. The company offers custom programs that can be tailored to the unique suppliers, designs, packaging and labels of its customers. Empire Bakery has been in Virginia since 1997 and currently employs 140 people in Rocky Mount. The company is headquartered in Cincinnati, Ohio.