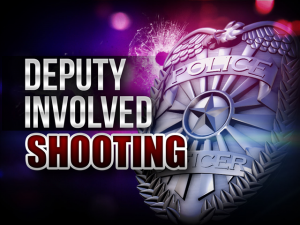 UPDATE: State Police have identified the robber fatally shot as 57-year-old Robert Morrison of Charlottesville.
PREVIOUSLY: State Police say a Rockbridge County Sheriff's deputy fatally shot a bank robbery suspect today a short distance from the bank. Police say it started with an armed robbery at the Cornerstone Bank branch just north of Lexington, and when responding deputies confronted the suspect running behind a nearby building, he pointed a gun at them. Police say the deputies then opened fire, striking the man, and efforts that followed to keep him alive failed. The suspect's name has not been released. The same bank was robbed in September, and investigators are working to determine if the two holdups are related.
From State Police: ROCKBRIDGE CO., Va. – The Virginia State Police Bureau of Criminal Investigation's Salem Field Office is investigating an officer-involved shooting that occurred Dec. 15, 2017, at the College Square Shopping Center in Rockbridge County. At 10:55 a.m. Friday, the Rockbridge County Sheriff's Office received a 911 call of a robbery in progress at the Cornerstone Bank.  Three deputies from the Rockbridge County Sheriff's Office arrived at the scene and located the robbery suspect running behind an adjacent building.  When the deputies challenged the subject, the subject brandished a handgun and pointed it at the deputies.  The deputies fired at the suspect. Despite CPR efforts administered at the scene by EMS, the adult, male suspect died at the scene. State police are still in the process of notifying the man's next of kin. At the request of the Rockbridge County Sheriff, Virginia State Police is investigating the shooting. The investigation remains ongoing at this time.