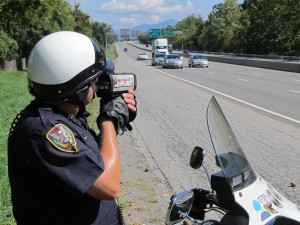 Roanoke Police are about to increase the number of motorcycle units assigned full-time to traffic enforcement — from one to four. Police Chief Chris Perkins says this will permit the department to assign one such officer to each quadrant of the city. WFIR's Evan Jones has the story.
[audio:http://wfirnews.com/wp-content/uploads/2011/09/09-29-Traffic-Wrap1a-WEB.mp3|titles=09-29 Traffic Wrap1a-WEB]
Right now, there's one motorcycle officer assigned to full-time traffic duty. But some new Harley-Davidson motorcycles are on the way, and three officers recently went through specialized training and certification. They will all concentrate on areas with higher-than-normal accident and crime rates, along with the those that are the subject of citizen complaints through telephone calls or posts on the department's Facebook page. School zones will also receive special attention, especially in the early part of the school year.