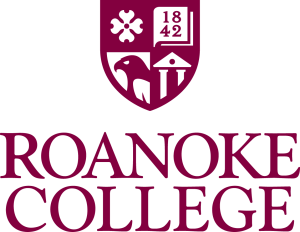 Roanoke College today unveiled a new brand platform that includes a fresh logo and updated messaging, representing and celebrating a new era for the 181-year-old institution.
The new logo and communications will be deployed across the College's many platforms, including on-campus signage, merchandise, print publications and a redesigned website that will be completed in late summer.
The new branding, which includes a refreshed color palette, typography, patterns, graphics and writing voice, were established in partnership with Ologie, an award-winning marketing and branding agency, and informed by extensive market research with all of Roanoke College's audiences.
"We know our story resonates with all kinds of people and holds true to who we've been, who we are and who we are becoming," Roanoke President Frank Shushok Jr. said. "The sum of experiences, interactions and communications at Roanoke shapes how students engage, how alumni remember and participate, and how faculty and staff deliver on our promise and vision. There is so much to be proud of at Roanoke!"
A new shield logo, the most visible representation of the new branding, is inspired by key elements of the school's values, history and goals: The dogwood flower represents the Commonwealth of Virginia, the College's Lutheran heritage, and our tree-filled campus, including its designation as a 2019 Tree Campus USA. The school mascot, the maroon-tailed hawk, occupies the lower left quadrant as a symbol of natural beauty and campus spirit. This is balanced by the founding year and, in the lower right quadrant, a detail of the Administration Building that represents the school's architecture and rich history.
"Yours, Roanoke" is the message at the heart of the new communications. The approach is designed to share Roanoke's story and convey what makes the College unique for every Maroon. The brand reinforces several core concepts:
· Roanoke students go on to lead lives of purpose and discover meaningful careers;
· Roanoke's location in Salem, the Roanoke Valley and the BlueRidge Mountains is unique and offers abundant and remarkable learning opportunities;
· Roanoke graduates are part of an international network of Maroon alumni; and
· Roanoke is Yours – unique for every single Maroon.
"Our brand tells the world who we are, what we do and why we do it," said Melanie Wine Tolan, vice president for marketing and communications. "With almost 200 years of history, we have powerful stories from alumni, students and faculty to share in new ways. Our goal is to draw people in to learn how Roanoke College students turn their personal experiences into their purpose and help meet our society's most pressing needs. I'm proud of the team that worked with input from the Maroon community to produce our new creative work."
The new branding launch includes town hall sessions for faculty and staff, as well as a lunchtime celebration on the Back Quad for the entire campus community. The celebration includes games, music and the debut of Roanoke's new food truck, which will serve refreshments.
"The food truck's branding provides for a sense of place," Ben Marks, director of auxiliary services, said. "You can see the Blue Ridge Mountains and the Roanoke Valley in the design. There's the iconic Rooney the maroon-tailed hawk image, the truck's colors and the rally cheer, 'Here We Go… Maroons!' My hope is that the food truck adds to our school spirit and Maroon pride, and that it is agile enough to meet the needs of any number of campus events, in addition to those of the broader community."