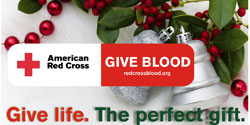 The American Red Cross is hoping to collect a lot of blood today and tomorrow in Roanoke and Salem.  WFIR's Timothy Martin has details.
[audio:http://wfirnews.com/wp-content/uploads/2011/12/Blood-Donorama-Wrap-1-WEB.mp3|titles=Blood Donorama Wrap 1-WEB]
Roanoke, VA. (December 13, 2011)– Think outside the box this holiday season.  The perfect gift is at your nearest American Red Cross blood drive or blood donation center.  And, unlike the latest fashion trend, video game or golf club, it costs nothing but an hour of your time. When you donate blood, you give the perfect gift – another hug, another laugh, another smile, another chance – to someone in need of blood.
"It's the season of giving and there's one gift that won't cost you a penny, but means the world to a patient in need," said Bob Lutjen, spokesman for the local Red Cross Appalachian Region Blood Services. "By donating blood, you can give someone an opportunity to spend another holiday with their loved ones."
It only takes about an hour to donate blood, and in that hour, you can unwrap a lifetime of memories for hospital patients in your community and across the country. The need for blood is constant and doesn't pause for the holidays. By taking time to donate this winter, you can help the Red Cross ensure a stable blood supply for all patients who need blood products.
All blood types are needed to help maintain a sufficient blood supply, especially type O negative. Type O negative blood, the universal blood type, is always in high demand because it can be transfused to patients with any blood type, especially in emergency situations.
Upcoming Blood Donation Opportunities:
Salem Holiday Donorama blood drive on December 21st from 11am to 6pm at the Salem Civic Center.
Roanoke Holiday Donorama blood drive on December 22nd from 10am to 6:30pm at the Roanoke Civic Center.
Enjoy great food, great fun and great prizes along with wonderful entertainment.