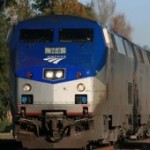 Hundreds of people will board passenger trains from Roanoke this coming weekend, excursions that also serve to help preserve and restore Roanoke's rail history.  More from WFIR's Evan Jones.
[audio:http://wfirnews.com/wp-content/uploads/2011/11/11-03-Excursions-Wrap-WEB.mp3|titles=11-03 Excursions Wrap-WEB]
(Continue reading for a link to full excursion information)
The National Railway Historical Society's Roanoke Chapter has sold enough tickets to ensure a profitable fund-raising weekend to Abingdon Saturday and Bluefield Sunday. The proceeds help them restore heritage rail equipment and will assist in restoration of the former Virginian rail station which was heavily damaged by fire in January of 2001.  Tickets are now available only by telephone at (540) 774-0611.
Click here for full excursion information.