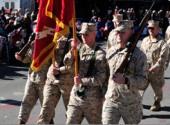 Downtown Roanoke Saturday will host the second annual "Virginia's Veterans Parade." Organizers say the parade is to pay tribute to veterans of all services and all conflicts. It starts Saturday at 11 o'clock with a fly-over from an Air Force C-130, and features more than 16 hundred participants and 75 units.
2ND ANNUAL VIRGINIA'S VETERANS PARADE
TO BE HELD NOV. 5th IN DOWNTOWN ROANOKE AT 11 A.M.
Flyover by Air Force C-130 Hercules Aircraft to Kick-off Parade
Roanoke, VA (Oct. 11, 2011)—Citizens from across the region will once again have the opportunity to show their patriotism and honor our military service men and women at the 2nd Annual Virginia's Veterans Parade.
 The parade will be held on Saturday, November 5 in downtown Roanoke starting at 11 a.m.  The event is free and will be held rain or shine.
 Veterans will be honored by the Air Force with a C130J plane flyover at the start of the parade. Highlights of parade participants include: Virginia Tech regimental band; Highty-Tighties; VMI Pipe Band; 29th Infantry Army Band – Virginia Army National Guard; area high school bands; 116th Infantry Brigade Combat Military Vehicles; 116th Infantry Battalion and E Company 429th Brigade Support Battalion (700 soldiers); Virginia Women's Institute for Leadership at Mary Baldwin College; VFW Rolling Tribute; and Veterans of Foreign Wars and Disabled American Veterans.
 "Our goal is to create an ongoing event that honors our military personnel—past and present," said Robert (Bob) Eaton, Parade Planning Committee Chair, a 22-year Army veteran. "We are thrilled with the positive response and overwhelming public support of Virginia's Veterans Parade."
 ITT NightVision and the Roanoke Valley Veterans Council present the Virginia's Veterans Parade that is organized by a volunteer group of military veterans in partnership with EventZone, the Roanoke Valley Veterans Council and Downtown Roanoke, Inc.  ITT NightVision, the parade's lead sponsor, has donated the funds to cover parade costs each year. Additional supporters are:  Lionberger Construction, American Red Cross, Interactive Design Group, Boxley, Hughes Associates Architects, City of Roanoke, Member One Federal Credit Union and Disabled American Veterans.
Parade details, including parking, parade route and things to do can be found at www.virginiasveteransparade.org.
About Virginia's Veterans Parade
Virginia's Veterans Parade was started in 2010 by a group of veterans from the Roanoke region, who wanted to bring back a time-honored tradition of holding a public event to honor the region's active and retired military service personnel. The parade is only one of two known in Virginia. found at www.virginiasveteransparade.org.