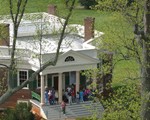 FOREST, Va. (AP) _ Thomas Jefferson's Popular Forest is resuming daily operations after a winter of weekend-only hours. The News & Advance reports (http://bit.ly/1nhuYSo) that daily operations at the historic attraction will resume Saturday from 10 a.m. to 5 p.m.
Over the last few weeks, employees have tidied up the residence, including refurbishing floors and pulling old stumps for a season focused on telling a more inclusive story of Jefferson's personal retreat.
With the help of Randolph College, organizers also plan to draw more attention to telling the history of the slaves who lived there year round.Poplar Forest will hold guided house tours along with self-guided grounds exhibits and special events throughout the spring.