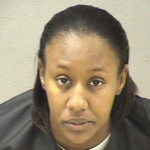 UPDATE: A Lynchburg grand jury has indicted a former Lord Botetourt High School student on charges that include murder for the death of her 22-month-old daughter. Other counts forwarded against 20-year-old Fantasia Lane include child abuse and endangerment. She was arrested in August after her toddler daughter Amarah was brought to Lynchburg General Hospital in August with series injuries. She died later at UVA Medical Center. A trial date is set for March.
AUGUST 2018: A former Lord Botetourt High School student faces charges in Lynchburg after police there say her 22-month-old child was abused and later died from her injuries.  20-year-old Fantasia Lane was already charged with felony child abuse, and police say after the toddler died yesterday, more charges are now pending.
From Lynchburg Police: On August 11, 2018, officers responded to the Lynchburg General l Hospital for an injured child who had been brought there by her mother. Based on initial findings, members of the Criminal Investigations Division responded and began to look into the events that preceded the child's arrival at the hospital. Due to the extent of her injuries, the 22-month-old child was then transported to UVA Medical Center in Charlottesville, VA for further treatment. Based on the preliminary investigation and the extent of the child's injuries, Detective Tucker sought charges on the child's mother for Felony Child Abuse. Fantasia Ashante Lane, a 20-year-old resident of Lynchburg, was arrested and transported to the Blue Ridge Regional Jail where she was held without bond. On August 16, 2018, the 22-month-old child succumbed to her injuries and was pronounced dead. Additional charges are now pending in this case.  This is an active and ongoing investigation. Anyone with further information related to this case is asked to contact Detective Tucker at (434) 455-6116. You may remain anonymous by contacting Crime Stoppers at 1-888-798-5900, by visiting the Crime Stoppers website at www.cvcrimestoppers.org, or by using the P3 app on your mobile device.