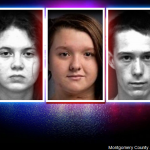 UPDATED November 27: A judge today sentenced Natalie Keepers to 40 years in prison for her role in the murder of 13-year old Nicole Lovell. A jury found the 21-year-old former Virginia Tech student guilty in September of accessory before the fact. David Eisenhauer was already sentenced to 50 years after entering a no contest plea.
PREVIOUS: Jurors in the Natalie Keepers trial are recommending she serve 40 years in prison. It comes after Keepers took the stand herself at today's sentencing hearing and apologized to the family of Nicole Lovell. The jurors found her guilty yesterday of accessory to murder before the fact in the death of the 13-year-old Blacksburg girl. Keepers says she never intended for it to happen.  Sentencing is set for November 27.
PREVIOUS: A jury has found Natalie Keepers guilty of accessory before the fact in the murder of 13-year-old Nicole Lovell. The jurors took about 90 minutes today to reach the guilty verdict. The panel will meet again today to consider her sentencing.
PREVIOUS: CHRISTIANSBURG, Va. (AP) – Prosecutors have told jurors that a former Virginia Tech student charged as an accessory in the death of a 13-year-old girl was closely involved in helping a friend plan the killing. But Natalie Keepers' lawyers told the jury that Keepers believed that talk of killing the girl was just a fantasy. The conflicting portrayals of Keepers came Tuesday during opening statements at her trial. Keepers has pleaded not guilty to being an accessory before the fact in the 2016 fatal stabbing of Nicole Lovell. Commonwealth's Attorney Mary Pettitt said Keepers discussed various ways of killing Lovell with her friend, David Eisenhauer. Keepers' attorney said Keepers only participated in the discussion to maintain her friendship with Eisenhauer. He is now serving a 50-year sentence after pleading no contest to first-degree murder.