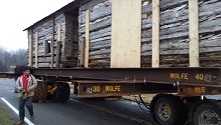 From Botetourt County: Fincastle, VA – Contractors hired to move two historical structures at the Botetourt Center at Greenfield have scheduled to perform the move on Tuesday, February 23, 2016, and Thursday, February 25, 2016, weather permitting. Each of the two buildings will be moved individually and intact, one on each day.
The moves are scheduled to occur between 9:00 a.m. and noon each day. During the move, access to the Botetourt Center at Greenfield will be restricted. The Botetourt County Sheriff's Office will be controlling the access onto International Parkway from US Route 220. The westbound lanes of International Parkway leading into Greenfield will be blocked during the move. The eastbound lanes of International Parkway, currently leading out of Greenfield, will be temporarily divided to facilitate two-way traffic. Access to the Greenfield Education and Training Center and businesses in the park will be maintained throughout the move.
All access to International Parkway from the Botetourt County Sports Complex and Preston Parkway and all access to the Cherry Blossom Trail parking lots will be restricted at 6:00 p.m. the day before the move.
Anyone interested in viewing the move will be directed to the Greenfield Education and Training Center for public parking. Beginning at 8:45 a.m., a shuttle will take visitors to a viewing area to see the move.
Full access will be restored to International Parkway and the public parking lots once the move is complete. For more information, please contact Cody Sexton in the County Administrator's Office.