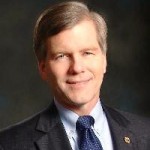 Governor McDonnell is asking lawmakers to boost funding for state-supported higher education by more than 220 million dollars within three years. As WFIR's Evan Jones reports, it is intended in part  to reduce the cost of attending the state's public colleges and universities.
[audio:http://wfirnews.com/wp-content/uploads/2011/12/12-15-HIgher-Ed-Wrap-WEB.mp3|titles=12-15 HIgher Ed Wrap-WEB]Here is the full governor's announcement:
Governor McDonnell Allocates $100 Million in Additional Higher Education Funding Per Year in New Budget
~Funding to Boost New Economy and Job Preparation Efforts, Make College More Affordable, Increase Enrollment and Keep Tuition Low ~
Creates Incentives for More Degrees in "Top Jobs" Sectors Like Science, Technology, Engineering, Math and Healthcare while Promoting Cost-Saving, Efficiency and Innovation on Campus
RICHMOND — Surrounded by students, legislators, business leaders, and presidents of public and private colleges and universities statewide, Governor Bob McDonnell today announced his proposed new higher education funding package which includes $100 million per year to prepare Virginians for top jobs, boost job-creating research and innovation, make college degrees more affordable for students, and advance toward the governor's goal of having 100,000 more Virginians earn degrees in the next 15 years.
"This is the next step in our own two-year initiative to reform, restructure and reinvest in higher education. It is our responsibility to ensure that the opportunity to earn a college degree is there for every Virginia student who is prepared to take that step," Governor McDonnell said. "This is about their future as individuals, and our future as a Commonwealth. In this competitive global economy, the more Virginia students who attend our colleges and universities and emerge with the skills and training necessary to compete for the best jobs in the 21st century, the stronger our state will be in the years ahead. It will make Virginia an even greater jobs magnet with a highly skilled workforce. It will bring more world-class companies to our state. It will lead to more innovation, job creation and growth. Ensuring that higher education is well-funded and that the funding is wisely allocated and efficiently used is a critical part of growing our economy. This is a core function of government and our budget will make higher education a funding priority. Forward-looking leaders in education, business and government must work together to provide the financial support necessary to enhance quality, affordability and access to higher education, and we must particularly invest in the high-demand subject areas like science, technology, engineering, mathematics and healthcare that will supply the great jobs and great careers of the 21st century.
"Our 'Top Jobs' legislation, enacted unanimously in the 2011 General Assembly session, has provided a long-term roadmap for success, and this year's budget reflects that priority commitment made by our Commonwealth. It represents the first significant sustained increase in higher education funding in many years and reverses the pattern of disinvestment that dominated much of the past decade. It also ensures that the policy goals in the reform legislation are targeted for funding, and provides college leaders with new incentives to be efficient and goal-oriented in spending our taxpayers' money."
During the past 10 years, per-student funding of Virginia's higher education system has shifted the burden to tuition-paying students and parents. In the past decade, tuition and fees for Virginia students have doubled, creating an unsustainable pattern of increases in student debt. At the same time, the need for more college graduates prepared to fill the knowledge-based jobs of the new economy has continued to increase. To address these trends, the recommendations of the bipartisan Governor's Commission on Higher Education Reform, Innovation and Investment were included in the Virginia Higher Education Opportunity Act of 2011 (also known as the "Top Jobs" Act), which the governor proposed and the General Assembly unanimously adopted in its 2011 session. The legislation committed the Commonwealth to the governor's 100,000-degree goal and provided specific policy goals and financial incentives for colleges and universities to grant more STEM and healthcare degrees, create affordable new pathways to attain degrees, enhance efficiency and graduation rates, use technology to enhance instruction, expand research and economic development activities, require more year-round use of facilities, and improve student financial aid.
"The business community especially appreciates the focus on making sure our students are prepared for the high-quality, high-paying jobs of the future, especially in the STEM and healthcare fields," said former University of Virginia Rector Thomas F. Farrell II, who is Chairman, President and CEO of Dominion Resources and Chairman of the Governor's Higher Education Commission. "These measures will pay significant dividends through business recruitment and expansion and economic development for years to come."
James Madison University President Linwood Rose added, "Governor McDonnell's commitment to higher education as an economic engine for more jobs, particularly when there are so many budgetary challenges facing the Commonwealth, places the governor among just a handful of far-sighted state executives who understand the necessity for investment in our future. Both the shared goals to expand access and keep college affordable are addressed by the governor's funding initiatives for enrollment growth and base operations and will benefit all Virginians. Virginia's incentive funding will produce more degrees and promote a focused effort on improved 'on-time' retention and graduation rates, while also driving an increase in the number of STEM-H degree recipients."
"As directed by the legislation, public higher education institutions have all developed six-year plans that identify the various initiatives they can pursue to help achieve the goals of the 'Top Jobs' Act. They are also taking steps to redirect existing resources to key objectives related to increased degree production especially in STEM and healthcare, improved retention and graduation rates, research and economic development, middle-income affordability and operational efficiency," said Secretary of Education, Laura Fornash. "It is now time for state government to provide the resources needed to ensure the success of this economically vital partnership."
In support of the higher education institutions' efforts to meet the goals of the "Top Jobs" Act, the governor provided $100 million a year in new higher education funding. The Higher Education Advisory Committee established by the "Top Jobs" legislation recommended improvements to the base-adequacy model and a new incentive funding model to reward institutions for greater efficiency, graduating students in four years, graduating more STEM-H undergraduate Virginians and underrepresented students. The governor also has removed a $10 million per year budget reduction that was to be imposed on the state's public higher education institutions. This funding is not only intended to strengthen Virginia's higher education capabilities, but also to reduce the growth of tuition and fee rates at Virginia's public higher education institutions.
The governor also included funding in the capital budget for college facility maintenance, equipment for new buildings, planning money for new projects, and nearly $400 million in new initiatives to be built with non-general funds.
From the $100 million in new money each year, the following areas are funded:
$25.5 million per year to provide additional support for public higher education institutions' base operating costs
$20.4 million per year as incentive funding in support of public higher education institutions' efforts to graduate students, especially if those students are STEM-H majors, graduate in less time than normal, and are considered an underrepresented group based on age and income
$16.2 million per year to account for enrollment growth by public higher education institutions between academic year 2009-10 and academic year 2010-11, representing more than 8,200 more students
$12.4 million per year to support cancer and high-tech research at our higher education institutions, as well as funding for competitive research grant awards
$8.2 million per year to support other STEM-H related initiatives at entities that support higher education
$6.4 million per year to increase financial assistance to students
$5.8 million per year to increase the Tuition Assistance Grant (TAG) award to Virginia students attending private, non-profit higher education institutions from the present $2,650 to $2,750
$5.1 million per year to support institution specific STEM-H, graduation and retention and economic development initiatives at public higher education institutions consistent with the goals in the Top Jobs legislation
Governor McDonnell is also proposing new incentives to encourage efficient savings in higher education institutions to help fund the goals established under the "Top Jobs" legislation. Although higher education receives no budget reductions in the governor's proposed biennial budget, the governor is directing each public higher education institution to set aside the equivalent of three percent of its general fund support for educational and general operations ($34.7 million) in FY 2013 and five percent ($57.8 million) in FY 2014 and beyond to reallocate toward the priority goals of the "Top Jobs" legislation. This funding will be released to the schools once they have a plan approved by the Secretary of Education on how they plan to utilize this funding in support of "Top Jobs."