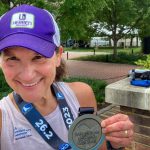 Veteran marathoner Pam Rickard – who just ran her 17th Boston marathon on Monday – was among those who elected to keep running despite the Blue Ridge Marathon being canceled this morning during what turned out to be a short-lived thunderstorm that moved through the valley. Read her Facebook post below:
(From Facebook) The race may have been canceled, but the running was not! Due to storms,
Blue Ridge Marathon
organizers had to cancel today's race about halfway through the marathon.Many people took shuttles back to the start. And many decided to go on, unaided. After some of the best peer pressure, I decided to go on as well and I'm so happy I did!
The camaraderie with the runners, and the love and support of neighborhood folks, was unlike anything I've ever experienced. And we got the medal, too! "America's Toughest Road Race" always lives up to the hype, but this year was extra special.