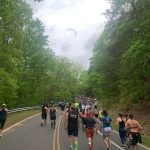 Update from marathon officials) We have information about what's next after today's race cancellation. But first, we want to express the disappointment our team feels that so many of you were not able to finish today. We look forward to this race year-round and it is our favorite thing to see you all cross the finish line.Today's cancellation was due to lightning that occurred within the prescribed distance for safety. We followed the protocol of our official sanctioning and enacted emergency procedures according to plan.
We understand that many of you are disappointed, and now that we know all of our runners are safe, our next priority is to take care of each of your questions as quickly and best as we can. Please bare with us as we work to address you all.
So what's next?
If you had not finished before the race was cancelled:
-Your results or timing will not be posted on RunSignUp. But you will be able to see your split times will be posted on jonesracingcompany.com. Everyone who finished ahead of the cancellation will be posted to RunSignUp.
-The Virtual will be extended to May 1st and those who would like an "official" finish can transfer to the Virtual at no cost. We will follow this email with instructions on how to transfer to the virtual. You will be able to submit your results between now and May 1st. You may run your virtual race anywhere. If you completed the race at your own risk today, we will honor your watch times for that submission. Medals will be available for local pick up or shipping. Full details about this option will come soon.
-If you are attempting the Full GOAT, please be sure to attend the Slow K tomorrow. You will also be able to submit final result as a virtual race by May 1st, however it must be completed on the official Blue Ridge Marathon course.
If you did finish before the race was cancelled and think you won:
The Anthem Star 10K Awards Ceremony has been rescheduled to tomorrow at 11am at River's Edge Park. This will take place just after the Slow K. We will also award the 1st overall male finisher in the Foot Levelers Half Marathon. There will be no other age group or overall awards for this year.
(previously from BRM Facebook) Due to severe weather in the area, emergency services have been forced to officially CANCEL remaining races. All runners, volunteers, staff and crowd must immediately evacuate the course and Elmwood Park. Runners need to shelter in place at an available aid tent or other shelter. Shuttles will be deployed to pick you up. Please stay tuned for further updates. We very much regret having to make this announcement, but severe weather and athlete safety has forced us to make this decision.
(Many of the Anthem 10K racers were able to finish before the races were canceled around 9:45)