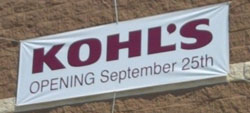 The date is out: Kohl's is set to open its new Roanoke store in Hunting Hills Plaza September 25th. WFIR's Evan Jones has the story.
[audio:http://wfirnews.com/wp-content/uploads/2011/09/09-14-Kohls-Wrap1-WEB1.mp3|titles=09-14 Kohls Wrap1-WEB]
A banner hanging outside the store says the September 25th is the opening day — a week from Sunday. And a company news release says Kohl's  is planning its official grand opening  three days later on September 28th. Roanoke City Building Commissioner Jeff Shawver says the store has passed all city inspections and is good to go. Kohl's still needs a business license, but that's typically a quick process. Look inside, and the store pretty much looks like it could open right now, but again, the banner says the opening is September 25th, and the company says the grand opening is set for September 28th.
Here is the Kohl's news release:
New Kohl's Brings 130 Jobs and Real Value to Roanoke
MENOMONEE FALLS, Wis., Sept. 14, 2011 – Kohl's Department Stores (NYSE: KSS) is proud to open a new location in Roanoke, Va. and will hold the store's grand opening on Wednesday, September 28. Located at 4210 Franklin Road, the Roanoke store is the 29th Kohl's store to open in Virginia, creating approximately 130 local jobs. The Roanoke store is one of 30 stores opening this fall, creating approximately 4,000 jobs nationally.
"We are excited to open the doors to the new Roanoke location. Kohl's offers everything our customers need for their families and their homes in one place, helping shoppers find the best values on quality brands while staying within their budgets," said Lauri Ott, district manager for the new Kohl's location. "At Kohl's, when we say 'expect great things,' we mean it – from our hassle-free return policy, to free shipping in store at the Kohl's Kiosk, to our industry-leading customer service, to giving back to the communities we serve – Kohl's delivers real value to our customers."