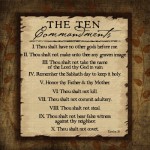 The coming legal battle over The Ten Commandments in Giles County Schools appears to hinge on one key word: "intent".  The commandments are now posted alongside some other historic documents, not on their own, as was once the case. More from WFIR's Evan Jones.
[audio:http://wfirnews.com/wp-content/uploads/2011/09/09-14-Commandments-Wrap1-WEB.mp3|titles=09-14 Commandments Wrap1-WEB]
The ACLU is challenging their continued posting, claiming the intent is purely religious. But Liberty Counsel, representing Giles County Schools, says it's part of a largely display of historic documents that impacted American law and government, and the purpose is educational.
Click here to read the full ACLU lawsuit.
Here is more information on the lawsuit from Associated Press:
Civil-liberties groups are suing a southwest Virginia school board for posting the Ten Commandments, contending that the display violates the Constitution's guarantee of separation of church and state.
The American Civil Liberties Union of Virginia filed the lawsuit Tuesday against Giles County School Board in U.S. District Court in Roanoke on behalf of an unidentified Narrows High School student and the student's parent. The lawsuit says the display unconstitutionally promotes a specific religious faith and serves no secular purpose.
It seeks to have the Ten Commandments removed from school walls and a ban on further display of the biblical documents. After removing them during the school year, school board members voted in June to rehang the biblical texts as part of displays that include other U.S. historical documents.