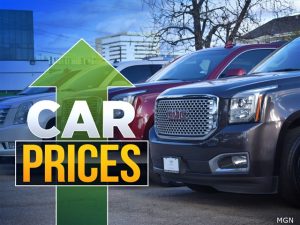 Just when new car prices were starting to edge downward, the cost of purchasing a recent used vehicle has jumped dramatically from pre-COVID levels. It's a national trend, and Roanoke is no exception; what you would have paid to buy a three-year-old used car in 20-9 is now good enough only now to purchase a similar vehicle that is 6 to 10 years old. Karl Brauer is Executive Analyst for iseecars.com, which tracks vehicle prices nationwide  and by region. He says the main reason for that is the relative lack of new vehicle production during the pandemic. WFIR's Evan Jones has more:
From iseecars.com:
The findings for Roanoke show:
In 2019 a 3-year-old Ford Fusion cost $15,004, but in 2023 a comparable budget of $14,454 can only afford an older 9-year-old Ford Fusion.

The average cost of a 3-year-old car in Roanoke-Lynchburg, VA was $22,187 in 2019, but it's now $30,623 in 2023 – a change of 38.0%.

Compared to the price of a 3-year-old car in 2019, a comparable budget of $23,281 will only buy a 6-year-old car today.
Here are popular cars with the biggest change in budget vs. years in Roanoke:
Used Car Budget and Age Comparison for Roanoke-Lynchburg, VA: 2019 vs. 2023 – iSeeCars Study

Rank

Vehicle

Average 3-Year-Old Price in 2019

Age of Car With Closest Average Price in 2023

Average Price (for "Age of Car") in 2023

1

Ford Fusion

$15,004

9 years old

$14,454

2

Chevrolet Sonic

$11,279

8 years old

$11,930

3

Hyundai Elantra

$12,368

8 years old

$12,069

4

Volkswagen Jetta

$13,193

8 years old

$12,225

5

Kia Forte

$11,982

8 years old

$12,575

Roanoke-Lynchburg, VA Average

$22,187

6 years old

$23,281
Click here to see the national report