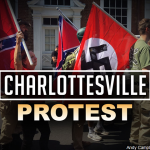 CHARLOTTESVILLE, Va. (AP) – A federal judge is set to hear arguments from white nationalists and others that a lawsuit against them over last summer's violence in Charlottesville should be dismissed.
A hearing on motions from a number of defendants to dismiss the lawsuit brought by 10 Virginia residents is scheduled for Thursday morning in federal court in Charlottesville.
The lawsuit was filed in October by plaintiffs who said they were injured as a result of white nationalist events last August.
On Aug. 11, white nationalists marched through the University of Virginia campus with torches, chanting racist slurs. The following day, attendees of a rally and counterprotesters clashed violently.
Among those whose motions will be heard Thursday are Jason Kessler, Christopher Cantwell and Richard Spencer.