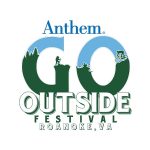 Roanoke's annual showcase of its metro-mountain lifestyle – the Go Outside Festival – is back again in mid-October. That means the lumberjack show, outdoor equipment out-fitter demos, live music, craft beer, outdoor-themed films and more. An early preview from WFIR's Gene Marrano:

ROANOKE, VA (August 9, 2022) – The Anthem GO Outside Festival (GO Fest) returns to Elmwood Park in Roanoke this October 13-15. Organizers are pleased to announce a new partnership with Explore Park to offer festival camping to attendees, as well as the return of favorite shows including the renowned Banff Mountain Film Festival World Tour, and an opportunity to raise funds for regional outdoor initiatives through Project Outside.
GO Fest is celebrating its 13th year of building a better outdoor community, and the addition of Explore Park to the festival community showcases the Roanoke Region's unique metro-mountain lifestyle, connecting the remarkable outdoor recreation area to the vibrant downtown core with a short shuttle ride. Attendees wishing to camp out during the festival can reserve camping spaces with Roanoke County Parks, Recreation and Tourism in early September.
These campers will be able to spend part of their day wandering Explore Park's hiking and biking trails, accessing the Roanoke River, playing disc golf, enjoying an aerial adventure at Treetop Quest, or drinking craft beer at Twin Creeks Brewing. Then, they can hop on the courtesy shuttle to the festival where they will explore hundreds of outdoor activities, pro-athlete shows, gear demos, live music, and world-class adventure films.