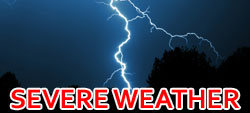 Last Friday's tornadoes in Pulaski County were more than just unusual for this part of Virginia.  As News/Talk 960's Evan Jones reports, they are the strongest on record in the New River Valley.
[audio:https://wfirnews.com/wp-content/uploads/2011/04/04-11-Tornadoes-Wrap1-WEB.mp3|titles=04-11 Tornadoes Wrap1-WEB]
The National Weather Service has kept detailed records in Blacksburg since 1950, and Office Director Dave Wert says these were easily the strongest tornadoes they've recorded in that time. Wert says a tornado this strong is likely in the New River Valley once only 200 or 300 years. They're much more like in lower-lying areas like Southside Virginia or neighboring parts of North Carolina.
Wert says our region's mountainous terrain does indeed reduce the threat of the severest tornadoes, but as Friday's events show, it does not eliminate that threat altogether. He says they send an important reminder of the need to be prepared. He hopes more people will purchase a weather emergency alert radio as a result.