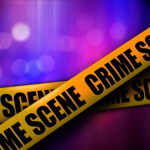 A half dozen people are in custody after a standoff Monday with Roanoke County Police. Most are charged with obstruction after a search warrant was issued in the 5800 block of Santa Anita Terrace Drive a little north of the airport. A Roanoke man is charged with a weekend robbery at the Clipper Mart, and the other five face obstruction counts.
NEWS RELEASE: Monday morning, officers of the Roanoke County Police Department were conducting follow up investigation related to the armed robbery reported in the 5600 block of Williamson Rd on Saturday, August 31. A s a result of the investigation, officers came into contact with the vehicle believed to have been used in the offense at a residence in the 5800 block of Santa Anita Terrace. Officers were able to make contact with one subject that was located near the vehicle while another subject fled into the residence. Police subsequently determined that other wanted subjects were located inside and were refusing to come out.
Roanoke County SWAT was activated and negotiators were eventually able to make contact with everyone inside. As a result of the investigation the following charges have been placed:
Dustin Lee Lewis (33) of Roanoke-Robbery; Use/Display a firearm while committing robbery; Possession of a firearm while a convicted felon
Tyler Jordan Griffith (25) of Salem- Obstruction
Hunter Dylan Hall (21) of Vinton – Obstruction; Capias out of Montgomery County
Nicholas Stuart Bennett (32) of Vinton-Obstruction
Aubriana Wright (22) of Hardy -Obstruction; Contempt of Court out of City of Salem
Candace Rae Clark (21) of Martinsville-Obstruction
The Roanoke County Police Department continues to investigate this incident and wish to thank the public for their assistance. Anyone with additional information is encouraged to contact the Roanoke County Police Department at 562-3265.
—
Police say the standoff is connected to a weekend armed robbery not far away. The incident happened Saturday morning at the Clipper Mart on Williamson Road when a man walked in and displayed a firearm to demand an undisclosed amount of money.