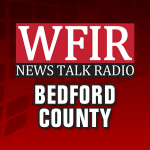 A major Bedford County employer is expanding — with plans to add at least 12 new jobs. Innovairre Communications makes direct mail fundraising campaign materials for non-profit organizations, and it plans to add state-of-the-art digital printing equipment. State and regional funds will help the company train 72 current employees to operate the new equipment.
News release: Governor Ralph Northam today announced that Innovairre Communications, LLC, a global manufacturer of direct mail fundraising campaign materials for the nonprofit community, will invest $4.85 million to add state-of-the-art digital printing equipment and expand its operation in Bedford County. The project will create at least 12 new jobs. In addition, 72 existing employees will be retrained to operate the new equipment with support from the Virginia Jobs Investment Program (VJIP).
"As one of the largest employers in Bedford County, Innovairre Communications is incredibly valuable to the region's economy, and I am pleased this global company has chosen to reinvest in Virginia," said Governor Northam. "To stay competitive in a 21st-century economy with ever-evolving industries, it is important to modernize equipment and retrain employees to learn new skills and processes. This investment is a testament to the Commonwealth's skilled pipeline of talent and competitive business environment, and we are confident that Innovairre will continue to thrive in Bedford County."
Innovairre Communications, LLC is the worldwide leader in fundraising and supporting nonprofits and agencies. The company serves more than 500 charities with more than 4,000 professionals working across five continents, and helps clients raise more than $5 billion dollars annually.
"Retaining quality employers, like Innovairre, that reinvest in their operations and their employees is critical to the vitality of Virginia's economy," said Secretary of Commerce and Trade Esther Lee. "It is exciting to see Innovairre making significant upgrades to remain competitive in the marketing industry, and we thank the company for its continued partnership with Bedford County and the Commonwealth."
"This advanced press installation is going to be the biggest paradigm shift this site has ever seen," said Chad Stephenson, Senior VP Operations at Innovairre. "Our employees are exceptionally well suited to take on this challenge in Virginia."
The Virginia Economic Development Partnership (VEDP) worked with Bedford County and the Lynchburg Regional Business Alliance to secure the project for Virginia. The Virginia Tobacco Region Revitalization Commission approved $65,000 in Tobacco Region Opportunity Funds. The company will be eligible to receive Sales and Use Tax Exemptions on manufacturing equipment. Funding and services to support Innovairre Communications' employee retraining will be provided through the Virginia Jobs Investment Program. The Region 2000 Workforce Development Board will also assist Innovairre and other print industry companies to develop the pipeline of talent.