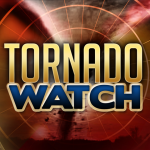 The National Weather Service has issued Tornado and Flash Flood Watches until late Sunday night for areas that include Roanoke, Salem and surrounding counties. A watch does not mean a tornado or flash flooding is imminent; it does mean that conditions are present that might lead their creation.
From the National Weather Service:
TORNADO WATCH 53 REMAINS VALID UNTIL 11 PM EDT THIS EVENING FOR THE FOLLOWING AREAS
IN VIRGINIA THIS WATCH INCLUDES 26 COUNTIES IN CENTRAL VIRGINIA:
AMHERST               APPOMATTOX           BUCKINGHAM        CAMPBELL             CITY  OF  LYNCHBURG
IN SOUTH CENTRAL VIRGINIA:
BEDFORD               CHARLOTTE             CITY  OF  DANVILLE          CITY OF MARTINSVILLE           HALIFAX               HENRY
PITTSYLVANIA
IN SOUTHWEST VIRGINIA:
CITY  OF  RADFORD       CRAIG                 MONTGOMERY          PATRICK               PULASKI               WYTHE
IN WEST CENTRAL VIRGINIA:
BOTETOURT             CITY  OF  BUENA VISTA           CITY  OF  LEXINGTON          CITY  OF  ROANOKE            CITY  OF  SALEM         FRANKLIN
ROANOKE               ROCKBRIDGE
FLASH FLODO WATCH: A strong cold front will approach the area from the west this afternoon and pass across the region tonight. Deep moisture ahead of this boundary will lead to bands of showers and heavier thunderstorms this afternoon and early evening. The potential exists for 1 to 3 inches of rainfall with locally higher totals along the southern Blue Ridge, the far western ridges and into the foothills and Roanoke Valley.
A flash flood watch is in effect until midnight for areas in Virginia that include the New River Valley counties of Pulaski, Montgomery and Giles Counties, as well as Craig, Roanoke, Franklin, Henry, and Patrick Counties.
Bands of showers and thunderstorms could produce 1 to 3 inches of rain, with locally higher totals along the eastern slopes of the Blue Ridge. Excessive rainfall may lead to flash flooding in urban areas such as Roanoke and Martinsville, and along creeks, streams an low-lying areas.
PRECAUTIONARY/PREPAREDNESS ACTIONS: A Flash Flood Watch means that conditions may develop that lead to flash flooding. Flash flooding is a VERY DANGEROUS SITUATION. Remember…TURN AROUND…DON`T DROWN! You should monitor later forecasts and be prepared to take action should Flash Flood Warnings be issued.