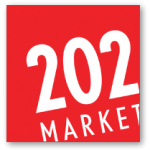 A hearing date is now set. 202 Market will appeal a ruling that suspends its liquor license for last February's striptease. WFIR's Evan Jones has the story.
[audio:http://wfirnews.com/wp-content/uploads/2011/10/10-11-202-Market-Voicer-WEB.mp3|titles=10-11 202 Market Voicer-WEB]
The full Alcohol Beverage Control Board will hear 202 Market's appeal December 6th. A hearing officer ruled last month to suspend the Roanoke restaurant's liquor license for the February striptease at a fund-raising event. State law prohibits strip tease acts in bars, even if the managers and staff didn't know it was coming.
Click here to read the full ruling.
The hearing officer ruled 202 Market can either pay a one thousand dollar fine and lose its liquor license for three days or pay no fine and lose it for 10 days. If the full ABC Board upholds the decision, 202 Market has the right to challenge that decision in court.
In the meantime, 202 Market is making sure potential customers know it is fully open for business — its web page states: "202 Market is open for business as usual – the ABC decision to suspend our license is being appealed! Our bar remains fully operational and our bartenders are ready and looking forward to serving you!"