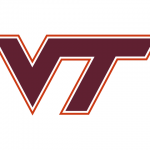 BLACKSBURG, Va. (AP) — Dexter Williams burst through the line, suddenly saw nothing but green in front of him and was gone. In a span of seconds, fans of No. 24 Virginia Tech went from roaring with certainty that the Hokies were about to make the kind of defensive play that can change a game to watching it flip in the other direction as Williams sprinted 97 yards down their sideline. And soon, a tight game was no more, the No. 6 Fighting Irish pulling away for a 45-23 victory on Saturday night. "I was looking at the Jumbotron the whole time," Williams said, "to make sure I didn't get caught."
The Fighting Irish (6-0) had minus-5 rushing yards and were facing second-and-12 from their 3 when Williams broke into the clear early in the third quarter, putting Notre Dame ahead 24-16. Williams had just been thrown for a 2-yard loss, prompting the crowd's excitement. Instead, it was Williams who made the big play. "We had a couple of plays that we felt comfortable we could run down there," coach Brian Kelly said of Williams, who ran for 161 yards in his first action of the season last week in a victory against No. 15 Stanford. "He's got great speed. He's able to hit it."
Virginia Tech responded by driving to the Notre Dame 30, but Brian Johnson missed a 47-yard field goal try. "After that we kind of self-destructed a little bit," Hokies defensive coordinator Bud Foster said.
Williams finished with 178 yards on 17 carries. He added TD runs of 1 and 31 yards.
The Irish's defense was stout, too. Khalid Kareem stripped quarterback Ryan Willis on a scramble and Julian Love was in perfect position to scoop up the bouncing fumble and take it 42 yards for a touchdown, giving Notre Dame a 17-9 lead late in the second quarter. Before breaking the game open, Notre Dame also sacked Willis for 11 yards after Virginia Tech (3-2) drove to the 19, and stopped the Hokies on three tries from the 1 yard-line. Both of those drives ended with the hosts settling for field goals by Johnson. "It was a good battle there for a while," Hokies coach Justin Fuente said.
Ian Book started fast and then struggled, but delivered the back-breaker for the Irish. Flushed left and surrounded by three closing defenders, he tossed a short pass just beyond them to Miles Boykin, whose 40-yard touchdown made it 31-16 late in the third quarter. The pair later connected for a 5-yard TD as the Irish scored the first 21 points of the second half. Book finished 25 for 35 for 271 yards in his third consecutive start. Willis was 31 for 52 for 309 yards with two TDs and one interception for the Hokies.
THE TAKEAWAY
Notre Dame: Book was perfect on the opening drive, completing all seven of his throws for 58 yards. He also hit Chris Finke for 58 yards on the first play of Notre Dame's second possession, but was far less effective throwing the ball downfield the rest of the way. He badly overthrew Finke twice, including once when Finke was well behind Tyree Rodgers and could have coasted into the end zone. "I told him don't worry about it," Williams said of Book. "He's a great quarterback and he has to continue to step up."
Virginia Tech: The Hokies' lack of defensive depth is catching up with them. They were without starting free safety Divine Deablo, who Foster said tweaked a hamstring in practice on Wednesday, forcing Rodgers into extended action. The Hokies have had to replace eight starters, plus Deablo, since last season.
RECORD BOOK
Williams' run was the second-longest in Notre Dame history, the longest in Lane Stadium history and matched the longest the Hokies have ever allowed. … Damon Hazelton caught a TD pass for the Hokies for the fifth straight game, tying Isaiah Ford's school record.
POLL IMPLICATIONS
The Irish enhanced their playoff aspirations by winning in a difficult place while No. 5 LSU, No. 7 Oklahoma and No. 8 Auburn all lost. Virginia Tech is likely to drop out of the rankings again, but could well figure in the ACC's Coastal Division mix before the season is over.
UP NEXT
Notre Dame returns home next Saturday to face another ACC opponent, Pittsburgh.
The Hokies are at North Carolina next Saturday before playing four of their last five at home.