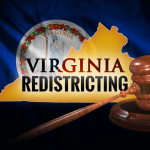 Virginia lawmakers are back in Richmond today for a special session, one called by Governor Northam in hopes of redrawing legislative boundaries in 11 House of Delegates districts. He did so after a federal appeals court ruled that the districts in question were unconstitutionally racially gerrymandered. Our political analyst says Democrats have everything to gain and nothing to lose, as  WFIR's Evan Jones reports:
08-30 Special Session Wrap1-WEB
The federal appeals court ordered Virginia to draw new legislative boundaries by October 30 for use in next year's General Assembly elections.