Local Business and Economic Development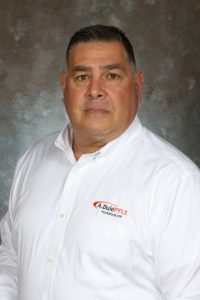 It didn't take long after an announcement just last month – A. Duie Pyle, a transportation company that offers direct trucking and warehousing services, has opened its new facility in Roanoke on Salem Turnpike. The Pennsylvania-based company is opening two other locations in Virginia, where it will also warehouse products and then ship direct from those facilities to retail and end-user customers. John Luciani (pictured) is the chief operating officer for "Pyle."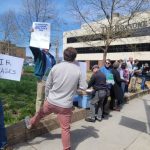 Its not fun to give up lunch hours and stand on the side of the road "screaming about your own company," she said – but Alison Graham, a health reporter for the Roanoke Times and Vice-Chair of the Timesland News Guild was doing just that with colleagues today in downtown Roanoke , seeking what Guild members say is a fair deal on wages, health care and mileage reimbursement rates. Iowa-based Lee Enterprises now owns a number of Virginia newspapers. The Roanoke Times staff, news coverage and the size of the paper itself have all shrunk dramatically in recent years, along with ad revenue to support the paper.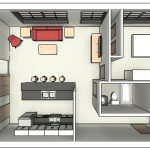 Not content with redeveloping older properties in downtown Roanoke and in the Wasena neighborhood, John Garland has set his sights on Southside Virginia. In conjunction with Cherney Development – which recently turned the old Happy's Flea Market into office and storage space – two former schools and a shuttered Winn-Dixie supermarket will become living spaces.  Construction on two of the Southside properties is underway; the third in Martinsville is a mixed-used development slated to start this summer. Garland says his development company has also purchased a handful of older buildings in downtown Pulaski that will be renovated as well.
There is no official announcement yet, but Delta Airlines will begin non-stop service between Roanoke-Blacksburg Regional Airport and New York City in early June. On-line booking for these new flights is now possible, effective June 6. Delta will join American in providing non-stop service between Roanoke and LaGuardia airport. The Delta fares available in our search start at $278, in line with Roanoke airport officials' efforts to see fares here competitive with surrounding airports.
While there will now be competition for this service, you will not find much of a difference in schedules. Delta and American have both scheduled mid-afternoon non-stop departures within 10 minutes of each other.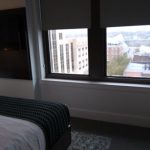 A project about 5 years in the making is open for business – the Liberty Trust Hotel, in the former bank and office building on South Jefferson Street in downtown Roanoke. The upscale "boutique" hotel features 54 rooms, many with sweeping views of the city. The Liberty Trust Hotel building dates back to 1909; many original design features were left intact in order to qualify for historic tax credits. Room rates per night range from $160 to $500 a night. Vishal  Savani is managing director for the development company.
Air travel is bouncing back in a big way at Roanoke-Blacksburg Regional Airport, but officials say a pilot shortage may limit the rebound's continued growth in coming months. The 2022 numbers so far are for January, and they show a passenger count at ROA more than 80% higher than the year before, but Airport Spokesperson Brad Boettcher says the number of available airline seats has not grown. It is mainly the result of regional jet pilot shortage, and those are the planes providing the great majority of flights here. But on the positive side, local capacity has held up much better than many other regional airports. More from WFIR's Evan Jones: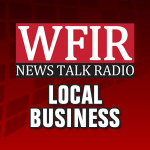 (Roanoke County release) Birmingham, AL-based Blackwater Resources, LLC announces the arrival of Burlington, formerly known as Burlington Coat Factory at Tanglewood, the 800,000 SF mixed use center that sits at what is known as the gateway to Roanoke County. Burlington will occupy the former Stein Mart space with interior redevelopment currently underway. Burlington is an American national off-price department store retailer, and a division of Burlington Coat Factory Warehouse Corporation with 740 stores in 40 states and Puerto Rico.
Founded in 1972 in Burlington Township, New Jersey, Burlington is the third largest off-price retailer after TJX Companies and Ross Stores. John Abernathy, President of Blackwater Resources explains, "We are excited to welcome Burlington to the retail mix at Tanglewood. This continues the growth momentum underway, and is another great story
in the ongoing redevelopment of Tanglewood." The store in northwest Roanoke will close on June 1.