Gene Marrano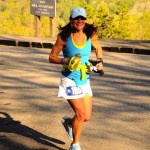 As runners line up for the Boston Marathon this morning – one year after the terrorist bombing at the finish line – a Franklin County runner will race for a fifth time. Pam Rickard had finished the Boston Marathon last April and was back in her hotel when the bombs went off. WFIR's Gene Marrano spoke with Rickard: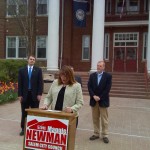 For the first time in 20 years a City Council candidate will run as a Republican in Salem. Maggie Newman received an endorsement today from two prominent GOP politicians – state Senator Ralph Smith and Congressman Morgan Griffith. She wants to see City Council stop giving away a million dollars a year to non-profits, and Newman would also like for Salem's municipal elections to be moved to November. She spoke with WFIR's Gene Marrano about that:

Next weekend's Down by Downtown Music Festival and the Blue Ridge Marathon will also bring RV's and pop-up campers to Roanoke. WFIR's Gene Marrano explains:
One of the few areas of contention among Roanoke City Council candidates at several forums seemed to center on interpreting crime rate trends. WFIR's Gene Marrano reports:

Those lucky enough to get through to Jefferson Center this morning for Sheryl Crow tickets can look forward to her July 31st concert at the new Elmwood Park amphitheater. But a low $15  price helped create a huge demand that overwhelmed the Jefferson Center's website and the box office phone line. WFIR's Gene Marrano has the story.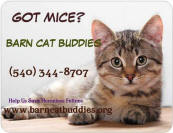 Need a cat to chase after mice in your barn or garden? Barn Cat Buddies wants you to know April is "Adopt a Barn Cat Month". WFIR's Gene Marrano has details: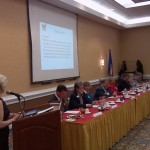 A lunchtime forum for Roanoke's ten City Council candidates at the Sheraton Hotel today marks the third time they will get together this week. Three seats are being contested in the May 6th election. WFIR's Gene Marrano reports:
Once you complete "America's Toughest Road Marathon," as the Blue Ridge Marathon in Roanoke is promoted, most races afterwards will be a piece of cake. That's the message from guest of honor Zoe Romano. WFIR's Gene Marrano reports:
Roanoke City Councilman Sherman Lea spent 32 years working for the Virginia Department of Corrections. Now he has been appointed to the Virginia Parole Board by Gov. Terry McAuliffe. WFIR's Gene Marrano has more:

Animal lovers have several chances in the next few weeks to enjoy events at Mill Mountain Zoo. WFIR's Gene Marrano has more: