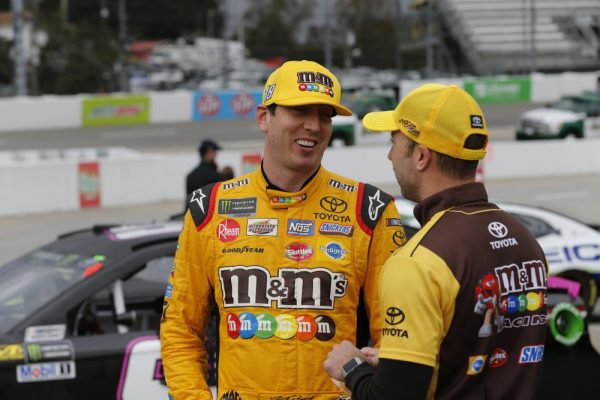 MARTINSVILLE, Va. (AP) — Kyle Busch's road to the championship round was made a little bit easier when he won the pole at Martinsville Speedway.
Busch turned a lap at 96.254 mph around the Virginia paperclip to earn the top starting spot in Sunday's race, the first of the third round of NASCAR's playoffs. Eight drivers remain eligible for the title, but only four will advance to the season finale shootout.
A win in any of the three races in this round of the playoffs earns a driver an automatic berth.
Busch won Martinsville last year to earn a spot at Homestead-Miami Speedway, and he's been so good all year as a member of NASCAR's so-called "Big 3" that advancing to the finale is almost a given. He said Saturday after qualifying that the pressure has been amped considerably.
"Anytime you're under pressure or under the amount of stress as what this round is to get yourself into the final four for Homestead, anytime you can kind of take a step back and have a clear head is a good time," Busch said. "The pressure that sets in over these next two weeks if you're behind the cutoff line … that can certainly wear on your during the week. You try to have other things to do to kind of take your mind off of it a little bit. This is what we live, eat, breath, sleep, everything. It's always on our mind."
The official lineup is not set until after Sunday morning's inspection, and drivers whose cars fail inspection will start from the rear. Pit selection will occur after cars are inspected, and Busch is eager to claim the first stall on pit road to ease his exits during the race.
"Obviously starting position is important, but the opportunity is really to have that pit box," Busch said. "That number one pit box will hopefully do us good and we can have a good day, run up front much of the day and finish there."
Clint Bowyer qualified second in a Ford from Stewart-Haas Racing, which has all four of its drivers in the field of eight. SHR teammate Aric Almirola qualified fifth, Kurt Busch was seventh and Kevin Harvick 13th.
Chase Elliott was the lowest-qualifying playoff driver at 21st.
Winner of two of the last three races, Elliott was terse after his poor qualifying effort.
Asked what he needed to do better in qualifying, Elliott answered: "to go a lot faster."
And his hopes for the start of Sunday's race because he's starting mid-pack? "Not getting lapped."