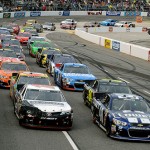 Due to a forecast of rain throughout the day and evening, the ValleyStar Credit Union 300 at Martinsville Speedway has been postponed until Sunday, September 24. The qualifying races will begin at 1:00 p.m. ET, while the main event will start at 5:00 p.m. ET.
The autograph session has been canceled. Bobby McCarty, who trails Brendan "Butterbean" Queen in the Virginia Triple Crown standings by only a half position, will lead the first of four qualifying races to green on Sunday following a lap time of 19.704. The time bettered his own Martinsville track record in the process.
This year, no drivers are locked into the field for Saturday evening's prestigious ValleyStar Credit Union 300 through qualifying. Instead, the field will be set by those four 25-lap afternoon qualifying races. The top 10 finishers in each of the qualifying races will comprise the 40-driver field for the main event.