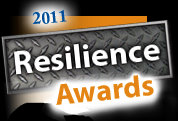 The Darden School of Business at the University of Virginia is looking for successful businesses in rural and inner-city areas that have been hit hard by the economy.  Executive Director Greg Fairchild with the Tayloe Murphy Center says they want to reward and recognize those success stories.  The awards are restricted to businesses in specific zip codes in Roanoke city as well as Franklin and Craig counties and other areas that have high levels of unemployment and poverty.
News Release
Darden's Tayloe Murphy Center Announces the Opening of the 2011 Tayloe Murphy Resilience Awards Competition
 The University of Virginia Darden School of Business and its Tayloe Murphy Center proudly announces the opening of the second annual Tayloe Murphy Resilience Awards Competition. The Center will accept applications and recommendations for business entries online at TayloeMurphy.org through June 30.
 The Tayloe Murphy Resilience Award is a unique competition that honors and supports entrepreneurial businesses in Virginia that demonstrate sustained vitality and commitment to their communities in areas facing high unemployment, high poverty and low entrepreneurial activity.
 Through ongoing media coverage, opportunities to engage key business and government leaders and enrollment in a week-long Executive Education course at Darden—valued at $8,000–$12,000— five Resilience Award winners each year receive the recognition and resources to not only help their company continue to grow and succeed, but their community as well.
 In its commitment to help entrepreneurs thrive and create economic uplift in communities facing economic challenges, the Tayloe Murphy Center also conducts research, community development, education and outreach year-round, much of it in areas that qualify for the Resilience Awards competition.
  "What we discovered last year with the first Resilience Awards is that despite a sputtering national economy, entrepreneurship is alive and well in Virginia, and in communities that are too often overlooked as homes to successful business," says Darden Professor Greg Fairchild, executive director of the Tayloe Murphy Center, which sponsors the Resilience Awards program.
 Cities in Virginia that qualify based on rates of unemployment, poverty, and self-employment for the 2011 Resilience Awards competition include Bristol, Buena Vista, Charlottesville, Colonial Heights, Covington, Danville, Emporia, Franklin, Fredericksburg, Galax, Hampton, Harrisonburg, Hopewell, Lexington, Lynchburg, Martinsville, Newport News, Norfolk, Norton, Petersburg, Portsmouth, Radford, Richmond, Roanoke, Waynesboro, Williamsburg and Winchester.
 Counties in Virginia that qualify include Accomack, Alleghany, Appomattox, Brunswick, Buchanan, Carroll, Charles City, Charlotte, Craig, Cumberland, Dickenson, Dinwiddie, Floyd, Franklin, Giles, Greensville, Halifax, Henry, Lee, Lunenburg, Mecklenburg, Montgomery, Nottoway, Page, Patrick, Pittsylvania, Prince George, Pulaski, Richmond, Russell, Scott, Southampton, Sussex, Tazewell, Washington, and Wise.
 Many other localities throughout Virginia have zip codes within them that qualify as well. For a complete list, please visit the eligibility page on the Center's website.
 After six months, the emotional boost and media coverage from last September's awards ceremony at UVA's Rotunda still lingers for last year's winners, finalists and their respective communities.
 In addition to the benefits that came from the initial announcement, each of the 2010 Resilience Award winners continue to reap a host of tangible results from the competition including sustained media coverage, tighter relations with government officials and other businesses, and the ability to attract new funding, employees and clients.
 David Stone, owner of Martinsville-based Solid Stone Fabrics and a Resilience Award winner, secured his next round of funding after meeting a U.S. Small Business Administration official at the award ceremony. Rebecca R. Rubin, president of the Fredericksburg-based environmental consulting firm Marstel-Day, said she enjoys closer relations with economic development and government officials in her city and region. "The reality is that the indirect effects, the longer-term connections, were almost more important in the long run and I'm sure that's what was intended," Rubin said.
 Each of the businesses that won last year—from Martinsville, Petersburg, Fredericksburg, Red Oak and Lexington—tell inspiring stories of struggle, survival and success. The same is true for many of the 106 applicants that entered the competition last year, many of which the Center hopes will reapply this year.
 "These businesses define resilience – the ability to bend but not break, to weather the storm and come out stronger for it, to thrive in the face of adversity," says Fairchild. "We believe that there are many more businesses like these in the Commonwealth and hope to have the opportunity to share their stories as well.  If you are leading a business here in Virginia in one of the communities highlighted by the Resilience Awards, we hope that you will consider applying.  If you know a business like those described here, please recommend them to us."
 The deadline to apply or recommend a business for the 2011 application is June 30. Semi-finalists will be chosen by a panel of judges in July. Finalists will be named in August and invited to attend the award ceremony on Sept. 7 at UVA's Rotunda where the winners will be announced.
 The Tayloe Murphy Resilience Awards are presented in part by sponsorship from Virginia Business.
 To learn more, please visit the Tayloe Murphy Center website or contact Chris Allerton and Olin Ericksen at allerton@ivygroup.com or call 434-979-2678.