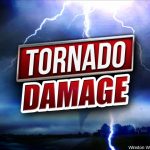 The National Weather Service confirms a tornado struck portions of Halifax County Friday evening. The tornado is classified as EF2, which is considered "strong" with winds of about 125 miles per hour. Several buildings were heavily damaged, but no injuries are reported.
From the National Weather Service:  METEOROLOGISTS FROM THE NATIONAL WEATHER SERVICE IN BLACKSBURG COMPLETED A SURVEY OF SIGNIFICANT DAMAGE IN CENTRAL HALIFAX COUNTY THAT OCCURRED AROUND 715 PM EDT FRIDAY EVENING. THE SURVEY CONCLUDED THAT THE DAMAGE WAS THE RESULT OF A TORNADO THAT REACHED A PEAK INTENSITY OF EF2 ON THE ENHANCED FUJITA SCALE.
THE TORNADO TOUCHED DOWN IN A WOODED AREA ALONG THE 1200 BLOCK OF HUNDLEY ROAD, WHERE EF0 DAMAGE OCCURRED AS SEVERAL LARGE TREES WERE UPROOTED TO THE NORTH. THE STORM THAN PROCEEDED NORTHEAST AT 40 TO 45 MPH, WHERE IT BELOW SEVERAL LARGE BALES OF HAY WESTWARD ACROSS THE ROAD, RESULTING IN EF0 DAMAGE.
FURTHER ALONG ITS PATH, THE TORNADO COMPLETELY LIFTED THE ROOF OF A PORCH OFF A SINGLE FAMILY HOME, BLOWING THE DEBRIS NEARLY 200 FEET TO THE NORTH INTO NEARBY WOODS. SEVERAL LARGE TREES WERE BOTH UPROOTED AND SNAPPED AS WELL. FURTHER TO THE NORTHEAST, THE STORM INTENSIFIED TO AN EF2, WHERE SEVERAL MATURE PINE TREES, 24-36 INCHES IN DIAMETER, WERE SNAPPED WHILE TWO NEARBY SINGLE FAMILY HOMES SUSTAINED SIGNIFICANT ROOF DAMAGE. A CAR ON ONE OF THE PROPERTIES WAS CRUSHED BY FALLING TREES.
EF2 DAMAGE, WITH WINDS ESTIMATED TO 125 MPH, ALSO OCCURRED TO A HOME WITH THE ROOF COMPLETELY RIPPED OFF THE RESIDENCE. NUMEROUS MATURE TREES ON THE PROPERTY WERE SNAPPED OR UPROOTED, WITH THE DEBRIS SCATTERED IN MULTIPLE DIFFERENT DIRECTIONS FROM THEIR ORIGINAL LOCATION. THE TORNADO THEN BLEW OFF THE ROOF OF A NEARBY BARN, SENDING PIECES OF THE ROOF SEVERAL HUNDRED YARDS TO THE NORTH