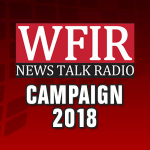 The deadlines are nearing for any candidates interested in running for the 8th District House of Delegates seat that Greg Habeeb is leaving at the end of this month. Democrats must file with their party by the end of the day. Our political analyst says any Democrat faces an uphill battle, but the right candidate might have a chance this year. WFIR's Evan Jones has more.
08-08 8th District Dems Wrap1-WEB
So far, Roanoke County Supervisor Joe McNamara is the only Republican to announce for the seat. The deadline for anyone else to do so is noon tomorrow.