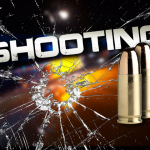 UPDATE: Roanoke Police have arrested Malcolm L. Harrison, 32 of Roanoke, on several charges related to this shooting offense.
Throughout the course of this investigation, Detectives determined that Harrison was the suspect involved in this shooting that occurred in June of 2022. Warrants were obtained for Aggravated Malicious Wounding, Use of a Firearm while in Commission of a Felony, and Possession of a Firearm by a Convicted Felon.
On January 10, 2023, Harrison was observed in the area of South Barrens Road in Roanoke County. Officers were able to follow Harrison as he left that location, eventually initiating a traffic stop in the area near 12th Street SE/Campbell Avenue SE. Harrison did not comply with the traffic stop and began fleeing from officers at a high rate of speed. During the pursuit, Harrison's vehicle struck a Roanoke Police patrol car and caused minor damages. The pursuit continued until Harrison exited his car in the 1200 block of Stewart Avenue SE and fled on foot into a nearby residence. Officers secured and entered the residence, found Harrison inside, then took him into custody without further incident.
Warrants for the June 2022 shooting were served and Harrison was remanded into the custody of the Roanoke City Sheriff's Office. Harrison was also charged with Felony Eluding and Misdemeanor Hit-and-Run regarding the pursuit. 
This remains an ongoing investigation and no further details can be shared at this time.