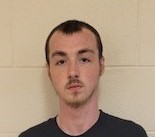 (update 6/17 5pm) The Bedford County Sheriff's Office arrested Tyler Hayes Martin, age 21 of Forest, Virginia in the recent burglaries of the food trucks located at the Backyard in Forest, Virginia. Martin was charged with 3 counts of burglary, 1 count of property damage, and one count of petit larceny. Martin was transported to the Bedford Regional Jail. The Sheriff's Office would like to thank the citizens of Bedford County for assistance in solving this case.
previous NEWS RELEASE: The Bedford County Sheriff's Office is seeking assistance in identifying a suspect involved in the break-ins, larceny and property damage of several food trucks at the Backyard located on Rt.221 at Burn Bridge Road. The incident took place at approximately 4:30AM on 6/15/21. At the time of the incident the suspect was wearing black Nike flip flops, long sleeve shirt, long pants, gloves and a dirt bike style helmet. The suspect arrived and left the location driving a motor scooter.
Anyone with information on this incident can contact Investigator Burnette with the Bedford County Sheriff's Office at 540-586-7827 or Central Virginia Crime Stoppers at 1-888-798-5900 or enter your tip online at http://p3tips.com or use the P3TIPS app on your mobile device. Crime Stopper callers remain anonymous and could receive a cash reward up to $1,000.00.