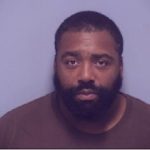 On October 3, 2022, Special Agents with the Virginia State Police, members of the Special Investigations Program (Mass Transit Unit), and the Star City Drug and Violent Crime Task Force seize drugs, guns, and US Currency from a residence in the City of Roanoke.
The package contained 2.3 pounds of Fentanyl, a powerful synthetic opioid, and was addressed to an individual at a residence in the 1400 block Orange Avenue, NW.  A search warrant was obtained for that address.  Inside the residence, investigators seized approximately 130 grams of additional narcotics, 3 firearms, and $13,431 in US Currency. The street value of all narcotics seized was $231,700.
Investigators arrested 34-year-old, DeAngelo Omer Baker of Roanoke, Va., at the residence (pictured) and he was charged with Attempting to Distribute/Sell Fentanyl, Possession of a Firearm by a Violent Felon, two counts of Possession of Firearm while in Possession of a Schedule 1 or 2 drug, Possession with Intent to Distribute Fentanyl, and Possession of Schedule 1 or 2 substance with Intent to Distribute.  Baker was released from custody on a $10,000 bond.  This remains an ongoing investigation.
The Star City Drug and Violent Crime Task Force is comprised of investigators from the Roanoke City Police Department, City of Salem Police Department, Town of Vinton Police Department and Virginia State Police.