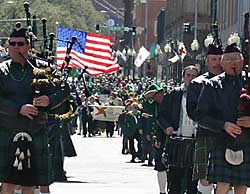 Downtown Roanoke is preparing for a very busy Saturday. As News/Talk 960's Evan Jones reports, the Saint Patrick's Day celebration is green in more ways than one.
[audio:https://wfirnews.com/wp-content/uploads/2011/03/03-10-StPatrick-Wrap1-WEB.mp3|titles=03-10 StPatrick Wrap1-WEB]
Events include the McDonald's St. Patrick's Day Parade, starting at 11:00 am and the Celtic Festival from 10:00 to 5:00. New this year: two evening performances by Celtic Crossroads at Mill Mountain Theater. Event Zone Executive Director Larry Landolt says this is the single biggest day of the year for downtown Roanoke retailers, with 10,000 to 12,000 people expected at at one time. Many museums will take advantage of the opportunity by offering free or discounted admission.
Click here for the Roanoke St. Patrick's Day celebration web site.