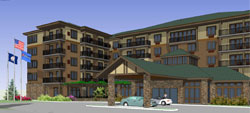 The South Peak development says construction of a long-promised hotel will begin within two months, and the first guests could be staying there one year from now. A 117-room Hilton Garden Inn will rise part-way up the hillside across from Tanglewood Mall.WFIR's Evan Jones has the story.
This will be the second building for South Peak — the first residents in the hilltop condo building may start moving in by April.
(Continue reading for the full South Peak news release)
Hilton Garden Inn Hotel Coming to South Peak
Ground to be broken soon for a 117-room hotel that will include conference space, suites and fireplaces in many rooms.
Roanoke, Va. (February  7, 2013) – South Peak has released plans for a 117-room Hilton Garden Inn hotel that will soon be under construction.  The approximately $15-million hotel, will also include roughly 2,000 square feet of conference/meeting space with an additional 1,000 square feet of break out space and a fifth floor conference room with mountain views.  In addition, there will be a full-service restaurant and lounge and fireplaces in 40 guest rooms.  The hotel is expected to be open by spring of 2014.
"This hotel brings a new look and feel to Roanoke," said Hunter Smith, president of Smith/Packett, which is developing South Peak.  "The hotel will have the same arts and crafts design as The Peaks residences.  It's part of our plan to carry the same architectural theme throughout the South Peak project."
The Hilton Garden Inn will be located at an elevation below The Peaks residences, giving guests a beautiful view of the mountains and downtown Roanoke.  Additional amenities include a fitness center, a heated indoor pool with whirlpool, family suites and a 24-hour business center.  Guest rooms and suites will be available in a variety of floor plans and will include microwaves and refrigerators, along with the Hilton Garden Inn brand's signature Garden Sleep System®, high definition television, spacious work desk and ergonomic chair, a living room area and balconies overlooking the courtyard.
"This development in Roanoke is a perfect place for a Hilton Garden Inn," said Adrian Kurre, Global Head, Hilton Garden Inn.  "As an award-winning upscale hotel brand, Hilton Garden Inn caters to both business and leisure travelers who are seeking upscale, yet affordable accommodations in Roanoke."
A ground breaking is planned for late March or early April of 2013 for the hotel. Construction will continue through 2013, and the first guests could be staying at the South Peak hotel as early as February of 2014.