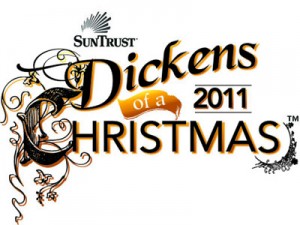 There's a guarantee of snow in downtown Roanoke for Friday, December 16th — tons of it. And as WFIR's Evan Jones reports, this forecast looks like a sure thing.
[audio:http://wfirnews.com/wp-content/uploads/2011/11/11-22-Dickens-Wrap_WEB.mp3|titles=11-22 Dickens Wrap_WEB]
Dickens of a Christmas is bringing in a snow-making machine that day, next to the City Market Building. There will be sledding and other snow-related activities to go with it, all part of the Kid's Zone activities on the 16th. It is one of the three Dickens of a Christmas Fridays next month, starting  with the lighting of Roanoke's Christmas December 2nd.
Roanoke City and many of its downtown businesses are trying something new in December to bring more shoppers to the center city — they'll stay open Thursday evenings through the month. Parking in downtown city-owned garages is free those evenings, and it will also be free on "Black Friday", the day after Thanksgiving.
Click here for full SunTrust Dickens of a Christmas information.